Jacobsen Turf
PGM22 Gas, Pro Walk-Behind Greens Mower
The Lightest Mower of its kind. The PGM22 gives you Jake's Signature Cut trusted by generations. User-friendly features make it simple to set up and operate, and robust engineering gives you the dependability you need to produce greens you're proud of every day.
KEY ATTRIBUTES
MOWER CUTTING WIDTH 22" (0.55 m)
MOWER HEIGHT OF CUT 0.062 - 0.438" (1.6 - 11.1 mm)
BLADES PER REEL 11 or 15
MOWER ENGINE Honda GX-120 Gas Engine
FUEL/BATTERY CAPACITY 0.66 gal. (2.5 L)
POWER 4 HP (2.9 kW)
SOUND LEVEL 95 dbA
MOWER WARRANTY 2 Years
BLADE MATERIAL Electronically controlled fully adjustable, 0-2200 RPM
REEL SPEED Dependent on Engine RPM and 2.25:1 reel reduction ration
FREQUENCY OF CLIP 13/64" (0.5 cm)
TRACTION, BRAKES AND SPEED
MOWER DRIVE SYSTEM Centrifugal Drive Clutch
TRACTION DRIVE Chain Drive
OPERATOR PRESCENCE CONTROL Standard InCommand operator controls (Traction and Reel) with integrated Operator Prescence Control
DIFFERENTIAL Full automotive type, housed in traction drum
TRACTION DRUM 7.75" (19.68 cm) diameter smooth machined aluminum
BRAKES Lever actuated hub brake with parking lock
TRANSPORT WHEELS 2 x Pneumatic 11" x 4" (27.94 x 10 cm)
MOWING SPEED Dependent on Engine RPM 3.2 mph (5.14 kph) max
WEIGHT 11 blade reel: 184 lbs. (83.4 kg), 15 blade reel: 194 lbs. (88 kg) (with Catcher, grooved steel roller and Kickstand)
View Specifications
Tag #:
Hours: N/A
Model Year: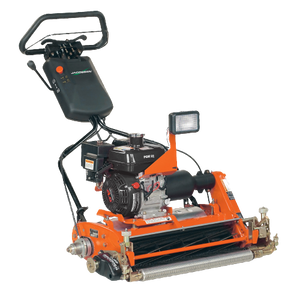 Can't find what you need?
Don't sweat it. We update our inventory regularly. Get in touch, and we'll find the right equipment for you.
Equipment Financing
New and pre-owned financing is available for 24-, 36- and 48-month terms through preferred leasing partners.

-->