We're here to make your job a little easier.
We are former superintendents, golf course technicians, and grounds crew managers committed to engineering excellence so that you can focus on your #1 priority: your turf.
When your mower breaks down, blades need sharpening, or you need an oil change, we're always a phone call away. And when you're ready for new equipment, we carry an extensive inventory of off-lease and pre-owned mower and groundskeeping equipment, fully refurbished to exacting standards using the Global Turf process.
Incredible service, centered around you.
Unparalleled engineering excellence
For nearly 20 years, Global Turf Equipment has provided excellent quality, pre-owned golf course machinery for country clubs, resorts and sports fields worldwide. An unmatched inventory selection of leading brands like Toro, Jacobsen, John Deere and Club Car all pass our comprehensive refurbishing process, ensuring they are ready to work immediately upon delivery.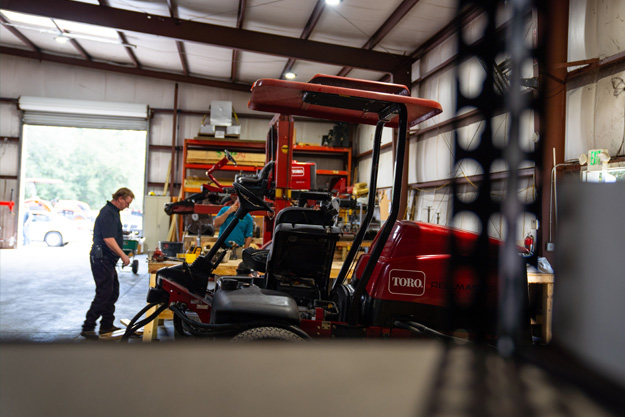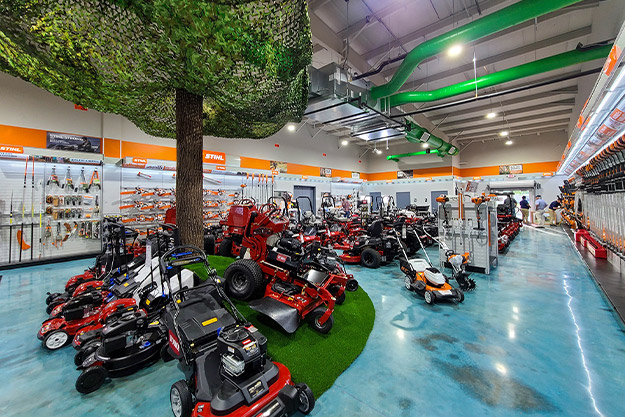 Now the industry's largest independent seller and exporter of pre-owned machines, we ship products of any size order to customers in all 50 states and over 80 countries. With a 35,000-foot indoor storage facility just outside Tampa, Florida, we average 400-600 pieces of equipment to choose from year-round. 
The newly renovated 8,000-square-foot maintenance workshop – known as the Mower Shop – has eight lifts, a fleet of transport trucks and trailers, and 12 full-time technicians, all who've worked with Global Turf for 5 or more years.
Every piece of equipment is put through our rigorous refurbishing process. Our technicians thoroughly inspect all areas of the machine from bearings and wear parts all the way to hydraulic pumps and engines, and recondition faulty or over-worn areas with new parts. Our 100-point service process is second to none.
We are proud of our Global Turf family. Global Turf made its name by being the world leader in quality pre-owned turf equipment. We provide an affordable option without our customers having to sacrifice the quality. Now, we get to expand our services into the world of commercial and residential landscaping. We're growing, and it's an exciting time for us.