Jacobsen Turf
HM600 Wide Area Mulching Flail Mower
A fine finish for the toughest turf. The HM600 has been built in collaboration with Müthing® to deliver a robust, reliable mower with the ability to tackle the toughest jobs, and the finesse to maneuver in tight spaces while providing a quality after-cut appearance.

KEY ATTRIBUTES
MOWER CUTTING WIDTH 126" 

(3.2 m)
MOWER HEIGHT OF CUT 1.2 - 2.8" 

(30 - 70 mm)



CUTTING UNITS 1 x 63" 

(1600 mm)

 front flail unit, two 39" 

(1000 mm)

 wing flails; 12.5" 

(300 mm)

 working diameter

MOWER ENGINE Kubota V2403 4-Cylinder, turbo diesel 65.2 HP 

(48.6 kW)



CUTTING CAPACITY 8.5 acre/hr at 7.5 mph 

(3.46 ha/hr at 12 kph)



FUEL/BATTERY CAPACITY (+RUN TIME) 20.4 gal. 

(77.1 L)



TRANSPORT SPEED 15 mph 

(25 kph)



MOWER WARRANTY 2 Years
CUTTING UNITS

NUMBER AND SIZE 1 x 63" 

(1600 mm)

 front flail unit, two 39" 

(1000 mm)

 wing flails; 12.5" 

(300 mm)

 working diameter

BLADE MATERIAL M Type heavy duty Carbide Flails with shark fin shredding bar for optimum spread and mulching of clippings. High strength structural steel hood with replaceable wear plate. Spring steel projectile guards. Bolt on carbide wear skids

CUTTING UNIT LIFT Fingertip operated joysticks for individual unit lift/lower; cross cut position. Electronic transport locks.



TRACTION, BRAKES AND SPEED


TRACTION DRIVE Hydrostatic, automatic on-demand cross-flow 4WD in forward and on-demand in reverse

REEL DRIVE Three dedicated cutter pumps to hydraulic motors with mechanical dual V belt final drive
HYDRAULIC SYSTEM 13.3 gal. 

(50.2 L)

 capacity regulated with side by side cooler
SERVICE BRAKES Dynamic braking through hydrostatic traction system
PARKING BRAKES Zero-maintenance electro-hydraulic wet parking brakes
STEERING Hydraulic power steering with adjustable tilt steering wheel
MOWING SPEED 
10 mph
(16.4 kph)
electronically adjustable
REVERSE SPEED 
4 mph
(6.4 kph)



WEIGHT AND DIMENSIONS




WEIGHT 4,429 lbs. (2,009 kg), 4,808 lbs. (2,181 kg) with cab




LENGTH (LESS CATCHERS) 148" (3.76 m) front deck down




OVERALL HEIGHT (INCLUDING ROPS) 3" ROPS up; 67" ROPS and decks down; 87" with cab (2.11 m ROPS up; 1.70 m ROPS and decks down; 2.2 m with cab)




WHEEL BASE 65" (1.65 m)




TRANSPORT WIDTH 83" (2.1 m)


WORKING WIDTH 

137"

 

(3.5 m)

 

with Muthing® flail units down
Tag #:
Hours: N/A
Model Year: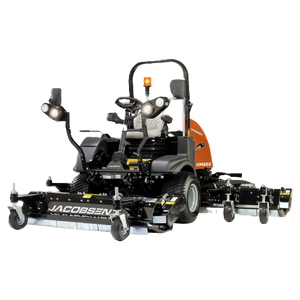 Can't find what you need?
Don't sweat it. We update our inventory regularly. Get in touch, and we'll find the right equipment for you.
Equipment Financing
New and pre-owned financing is available for 24-, 36- and 48-month terms through preferred leasing partners.

-->